The Mountain Pearl est un Pick up Ford Ford F-100 restylé par Otto Rhodes & Bill Dickey (Colorado) fera l'objet d'un article dans
Hot Rod Magazine
en 1962.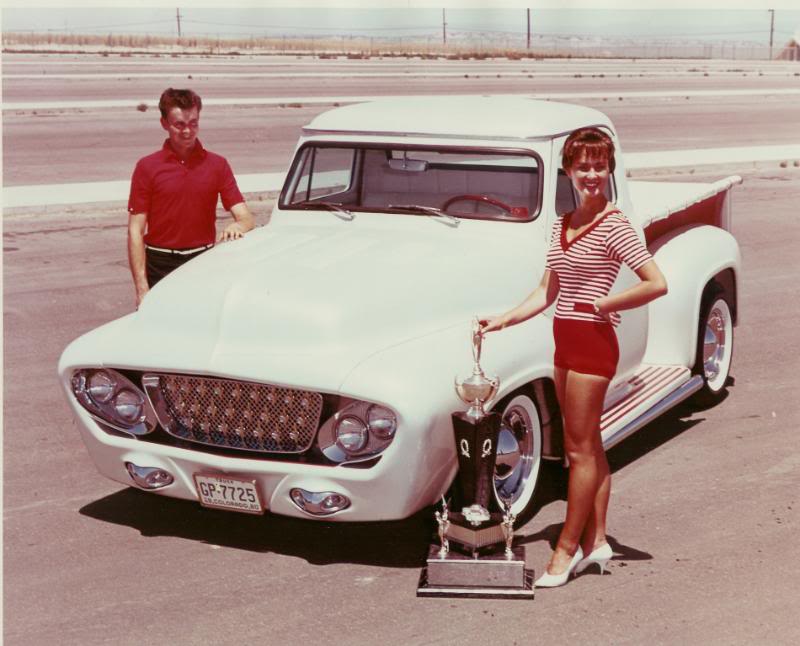 C'est en 1956 que Otto s'achète le pick up pour simplement aller au lycée, mais sa voiture de prédilection et sa Ford 1936 choppé. A la sortie du lycée, il chrome les pare chocs, monte des feux arrière de Pontiac 1953 et l'avant en installant des jantes de Mercury 1950. Otto et Bill choppe une première fois le toit de 5 pouces, mais comme le résultat ne leur lais pas ils rajoutent une bande de 1,5 pouce à l'arrière de la cabine. Inspirré par le Pick up Ford de George Barris ils modifie la face avant en rapprochant le devant des ailes avant du milieu de la calandre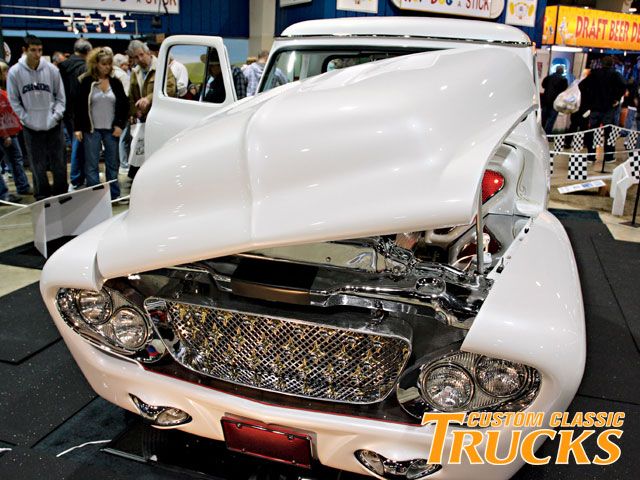 Ils enlève également le pare choc avant remplacé par un roll pan incluant avec des moulures les clignotants et la plaque d'immatriculation, la nouvelle calandre réalisé à partir de celle d'un Chevy Pick up de 1955 mais retourné auquel on n'a rajouté des bullets est légèrement tunnelée, les phares sont remplacé par des doubles phares de Lincoln 1958, les clignotants réalisé avec des feux arrière d'Oldsmobile 1958 font également office de mini pare chocs. Le capot est déchromé (shaved) et percé de louvers. L'arrière reçoit lui aussi ce traitement triangulaire et des feux arrière de chevy 1958.
Howard Gentemann de G&D Body and Paint peint le pick up en blanc perle la cabine tandis que le corps de la benne est en rouge metalflake. L'intèrieur réalisé par the Hunter Brother Trim Shop est en vinyl blanc et rouge et reçoit des siège d'Impala 1958.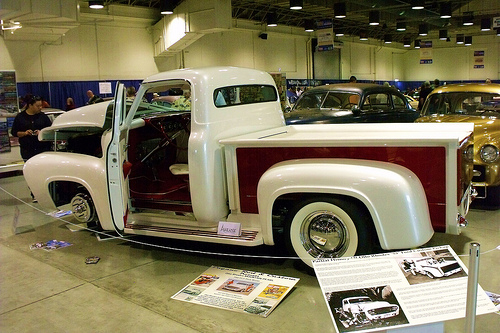 Le moteur est un V8 Oldsmobile de 1954 de 356 cubic inche, avec entre autres une admission Cragar et six carburateurs Stromberg.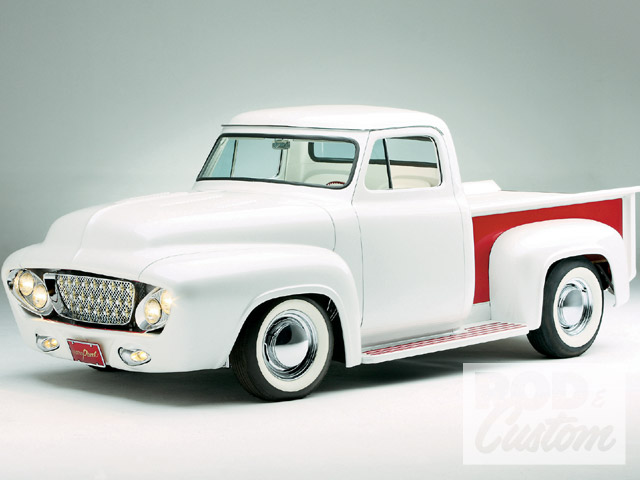 C'est en 1961 au Saber's show au Colliseum qu'il est pour la première fois au public. Il remporte 6 prix!!
Il fera les années suivantes de nombreux shows, aujourd'hui après avoir changé de propriétaire il est toujours aussi beau.