Rick Erickson's est le patron de l'atelier de customisation ERK (Extreme Kustoms- Wildomar Sud de la Californie) ils se spécialise dans la modification de Mercury 1949- 51 équipées de suspensions air rides et de châssis fabriqués sur mesure, il reçoit le surnom alors de Sultan of Sled. Je ne vous présente pas une Mercury mais un Pick up Ford de 1953 "the Golden Charriot"
La carrosserie a subi un très grand nombre de modification dont un top chop et un déchroming au niveau des suspensions nous trouvons des Air rides.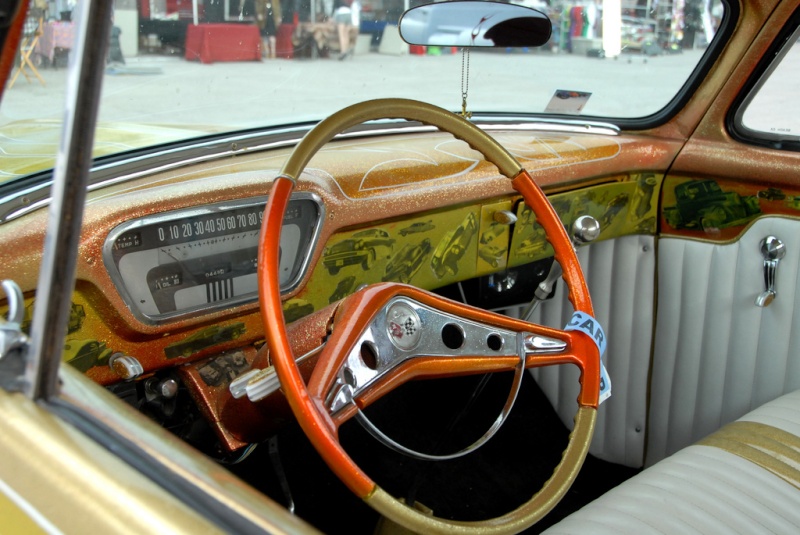 L'intérieur se caractérise par une peinture pailletée, un volant de Chevy '59, et des photos de customs classiques collées sur le tableau de bord avant d'être enfermées sous le vernis, et une sellerie rolls and pleats.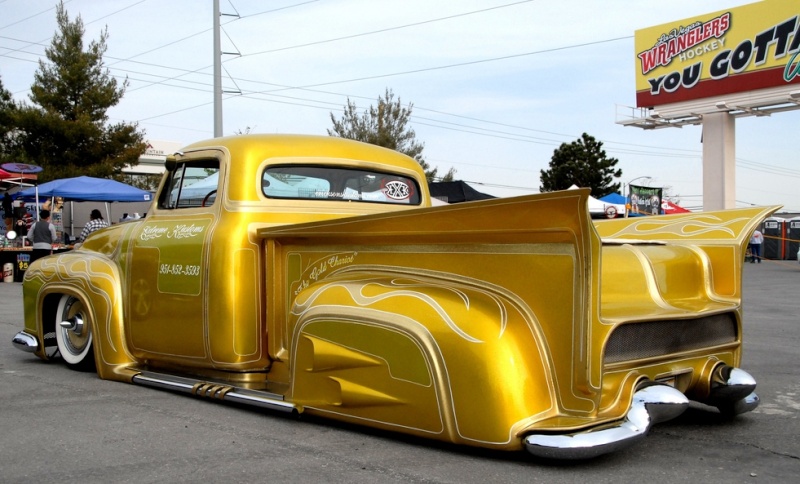 La benne arrière reçoit des ailerons inclinés comme les Buick et Chevy de 1959, les ailes arrières recoivent des fender skirts recouvrant toute la roue arrière ils sont agrémentés de deux prises d'airs coniques.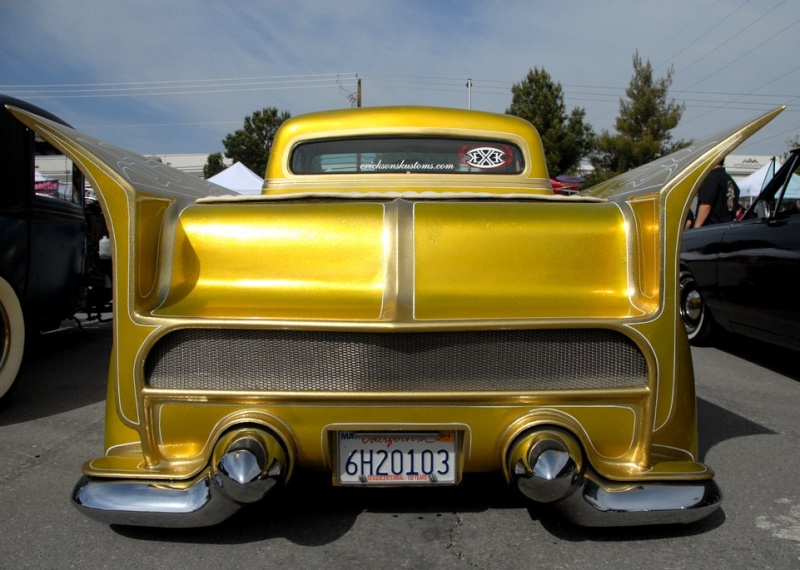 La face arrière carrément radicale est moulée dans un bloc unique avec l'ajout d'une moulure centrale et d'une calandre ornée d'une grille chromée à la place de la porte de la benne. les pare chocs arrières sont réalisés à partir de pare chocs avant de Cadillac 1956 scandant une moulure de plaque d'immatriculation.
Agrandir cette image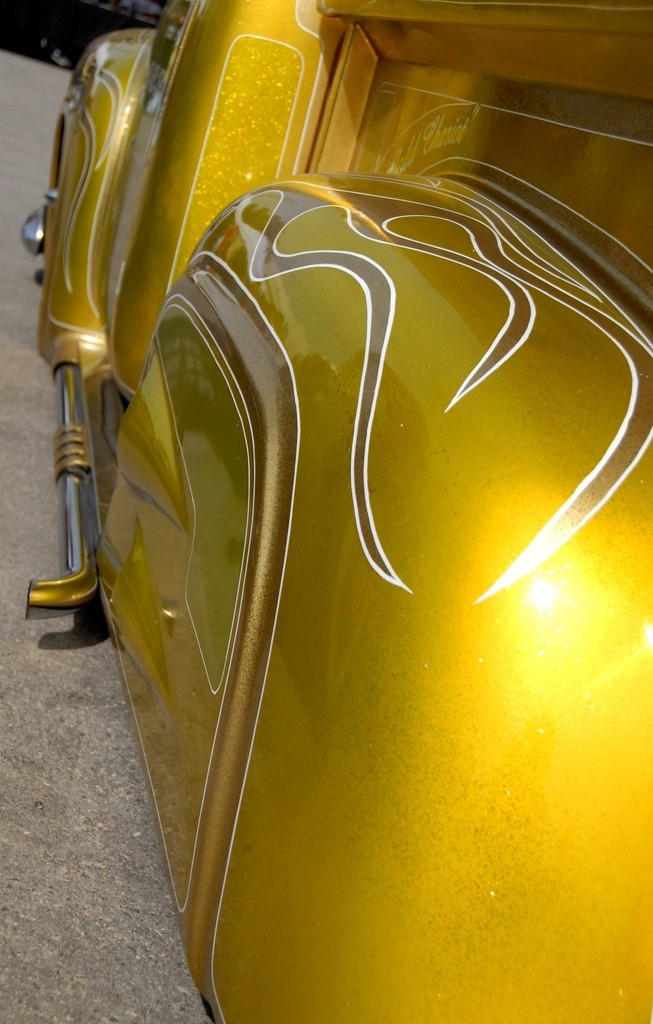 La peinture est un magnifique metalflake or avec des rehauts plus vert entourés formant du panneling et des flammes le tout entouré d'un liseret blancs.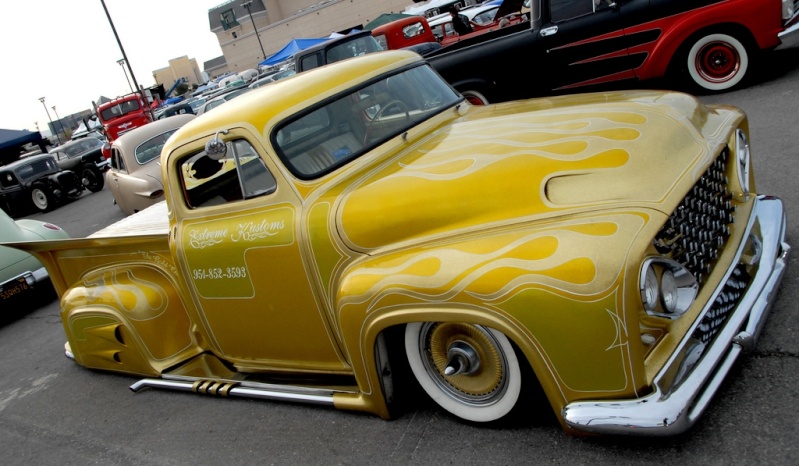 La face avant est aussi entièrement revue avec l'intégration oblique de feux de Chrysler 300 scandant une calandre faite de petits chromes rectangulaire de Buick 59. Le capot reçoit deux prises d'air de chaque côté et au centre un pinstripping. et un pare choc avant réalisé probablement à partir d'un pare choc arrière d'Imperial 1958.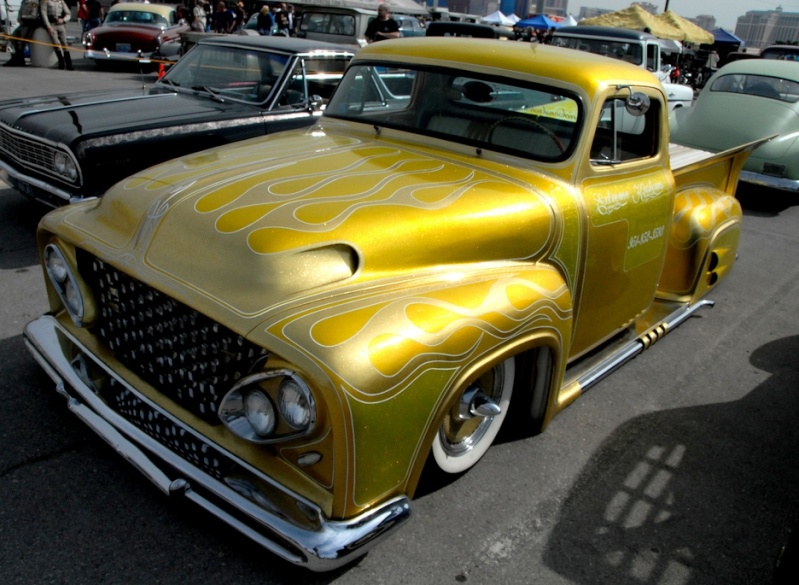 Au niveau des profils on peut noter les marche-pieds qui sont modifiés afin d'intégrer des lake pipes sortant du bas des ailes, les pare chocs sont eux aussi personnalisé à partir d'enjoliveurs de Ford Fairlane 1956 avec en leurs centre une pointes chromée.
Agrandir cette image