La scène custom et hot rod japonaise est d'une qualité égale à la scène américaine, certains véhicules ont même reçut des triomphes lors de leurs expositions dans des shows outre atlantique.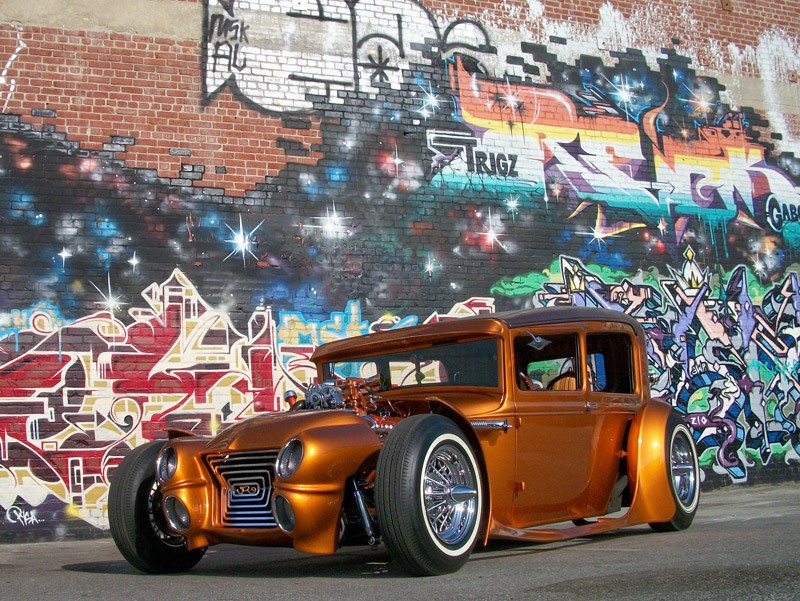 Rod Riguez est un de ceux là, devenant un classique des show rods des années 2000. Il est réalisé en 2002 à partir d'un Ford Sedan 1930 par Junichi Shimodaira de Paradise Road à Nagoya au Japon.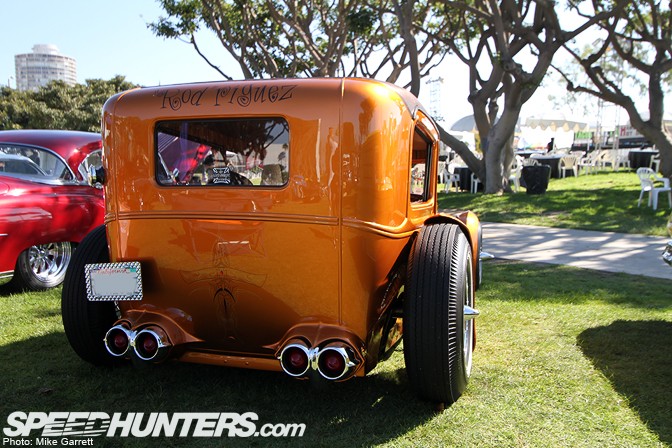 Le premier travail a été de modifier le chassis en "z" afin de dropper la voiture de 6 pouces à l'arrière et de 4 pouces à l'avant.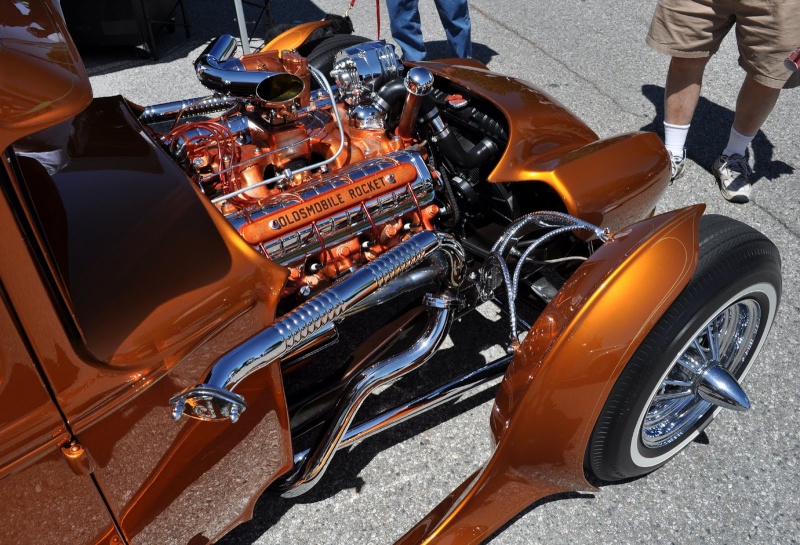 Le moteur est un V8 Rocket Oldsmobile accouplé à sa boite Hydramatic. Un train avant droppé ITC prend place avec des freins à disque GM, le pont est un Chevrolet 10 boulons avec des amortisseur et des ressorts TCI.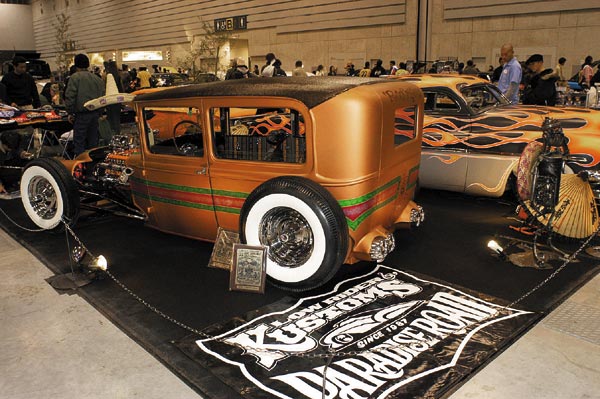 Sa première version de 2002
La carrosserie est ensuite channelée sur le chassis qui a demandé une découpe de la cloison pare-feux afin de faire passer la mécanique.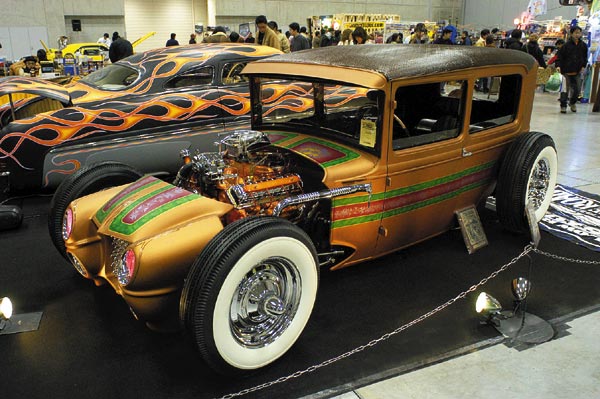 Sa première version de 2002
La face avant a été entièrement réalisé par Junichi avec 4 phares emprunté à des parechocs avant de Cadillac 1959.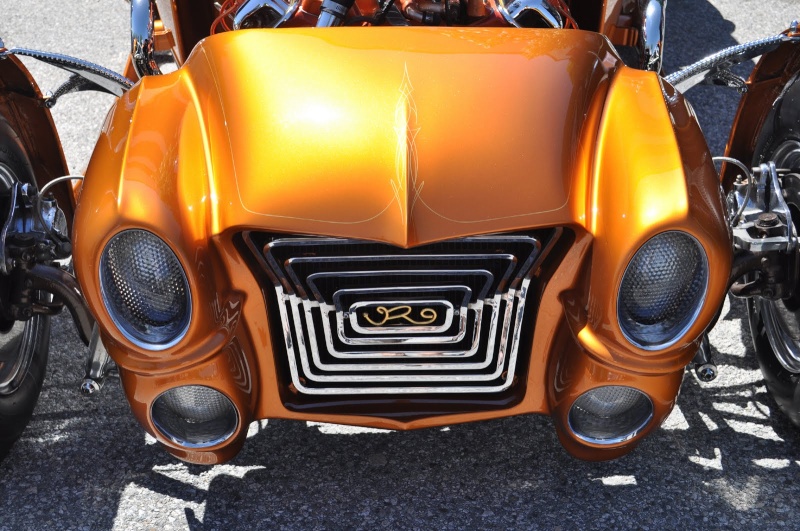 A l'arrière nous trouvons des entourages de clignotants avant de Chevrolet qui reçoivent les feux arrières.
Le block moteur est peint en doré, reçoit des cache culbuteurs chromés une admission avec deux carburateurs, un radiateur de Ford Mustang 1968.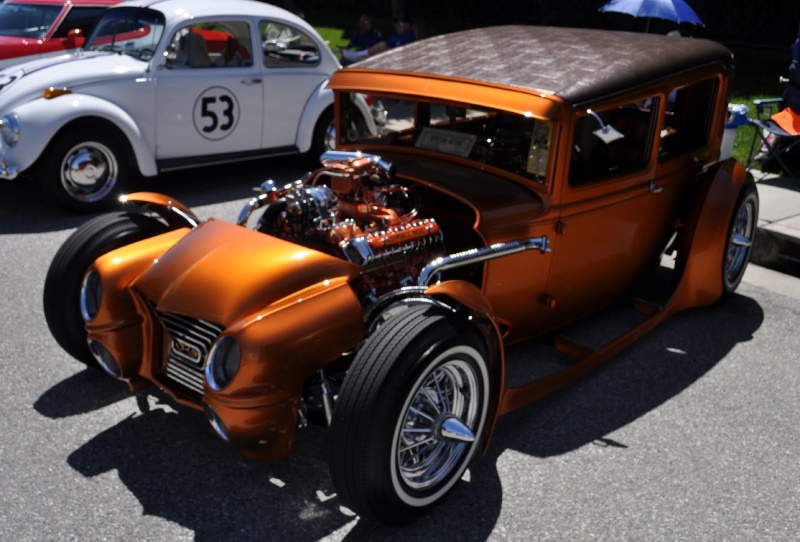 Le tableau de bord reste proche de l'origine, cette version sera exposé au Yokohama Hot Rod Custom Show de Décembre 2002ou il gagne le Street Rodder's Pick Award, le the Best Street Rod and the Best Body Work award.
Par la suite Junichi top chop le toit, de nouvelles ailes aux formes sauvages sont ajoutées. Une nouvelle grille de calandre chromée est placée à l'avant rappelant la forme d'une toile d'araignée. A l'intérieur de nouveaux sièges au design futuriste sont réalisé et un volant de Ford début 1960's prend place. La carrosserie reçoit un Tequila Gold brillant. Des pneus à liseret blanc montés sur des jantes Cragar Star Wire lui donne un air de low rider sixties.
Agrandir cette image
En 2003 il est de nouveau exposé au Yokohama Hot Rod Custom Show et remporte le 2003 Hot Rod Custom Show Best of Show, le George Barris' Pick Award, le Street Rodder's Pick Award et le Line Dr.'s' Pick Award.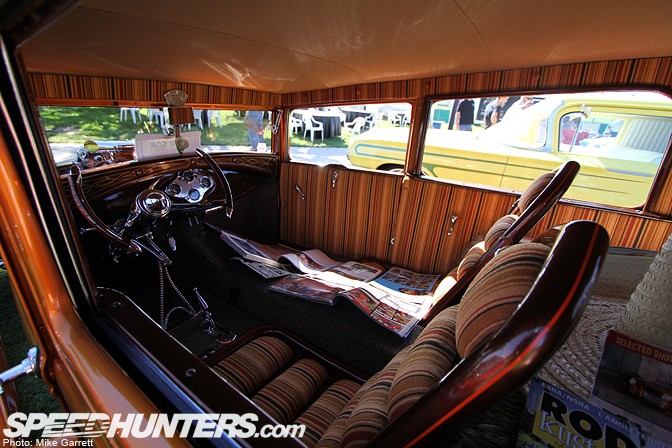 En 2005 Junichi envoie son Rod Riguez aux USA, il est exposé au Grand National Roadster Show de 2005 et au Cruisin National de Paso Robles de la même année. La voiture reste aux USA et est vendu à Chuck Schauwecker de Carson en Californie.